ANTICALCAREOUS MAGNET AT CATALYZED IONS

Characteristics:
Capacity: 2000 liters per hour
Magnetic power: 40.000 Gauss
Double induction catalyzer
Inlet: Diam 22 mm = 1/2" gas
Dimensions: 360x67x38 mm
Unlimited duration

Packing:
- In boxes with 6 pieces with an expositive poster



The future is in the environment
The M.A.I.C. water treatment system is the future of the environment.
TheM.A.I.C. 2 system protects household appliances from water and tear guaranteeing continuous and superior quality. All at considerably less expense. Reducing consumption of detergents also reduces pollution caused from domestic discharges. This means to actively participate in domstic discharges.This means to actively participate in the creation of en Ecosystem exercising a functional control in the context of ecologic and environmental protection. It was not by chance, in testimony of the constant commitment was not by chance, in testimony of the constant commitment toward protecting the environment that the symbol "Marchio Ecologico" was created.
The M.A.I.C. 2 system also takes into consideration safeguarding our health: water after having been magnetized by the M.A.I.C. 2 system ensures psycophysical equilibrium as well as more complete drainage of the organism. This water is furthermore highly recommended for bathing and washing: showers, baths, hydromassages, etc. It activates and reinforces the skin cells at the same time. It is recommended in order to combat cellulits as well as useful in breaking down renal calculi (documentation available upon request).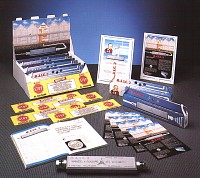 The M.A.I.C. 2 is a professional instrument for centralized installations. Its strong magnetic concentration (40.000 Gauss) and constant action of the double catalyzer permit the transformation of flux into amorphous crystals, preventing its precipitation onto conductors and resistors; the calcite crystals treated in this manner remain free in suspension.
M.A.I.C. 2 was specifically studied and created to be installed above existing canalization (immediately after the meter) and is suitable for the cantralization of an entire apartment (thanks to its 2.000 l/h capacity).
M.A.I.C. 2 is the only model of its kind with a double catalyzer available on the market.
The first catalyzer initiates and accelerates the process of molecular modification of the calcite crystals. The second catalyzer eliminates the undesiderable taste of chlorine and enhances the natural qualities of the biologically pure water. Both of the catalyzer are patented.
M.A.I.C. 2 gradually eliminates pre-existing calcite incrustations.
M.A.I.C. 2 prevents calcite sedimentation (and favors consequent energy savings).
M.A.I.C. 2 does not modify water hardness. It simply conditions the calcite making it soluble in suspension. Soft water (salt poor) would be corrosive and facilitate the passage of toxic metals in solution such as lead. Furthermore, its modifying action on the water is directed towards the organoleptic characteristics and not towards its chemical or microbiological ones.
Water which has been magnetized, ionized and catalyzed by M.A.I.C. 2 has natural and biological properties that can normally only be found in spring water.
M.A.I.C. 2 is easy to install and does not require any maintenance. Its action is indefinite.